---
WORKFORCE SOLUTIONS FOR COVID-19 TESTING & COMPLIANCE
---
Vitality team specialize in safe and efficient on-site COVID testing for companies nationwide. We are dedicated to keep employees safe, compliant and minimize disruptions to work schedules.
COVID-19 Testing – Vitality Advantage
NATIONAL COVERAGE AND SCALE
Vitality is a trusted partner and provide large-scale testing for educational institutions, film industry and numerous corporate partners from the beginning of the pandemic.
CUSTOM CLIENT SOLUTIONS
Customizable program based on the objectives of our clients and the needs of their communities.
DIVERSE TESTING OPTIONS
Vitality utilizes various technologies, including solo RT-PCR, pooled RT-PCR, rapid molecular and rapid antigen tests.
Test options – saliva and non invasive nasal collections.
SIMPLE ACCESS TO REPORTING AND COMPLIANCE 
Vitality simplifying on-site operations by utilizing user friendly technologies and train your organization's staff to utilize the user friendly platform. Easy report generation and real time results reporting to patients and organizations.
COVID-19 Concierge Services
We offer on demand same day concierge Rapid and RT-PCR stress free collections.
On demand at home, hotel or work VIP Covid Testing
Corporate Pre-Travel Testing events for individuals and organizations
Convent and safe option for actors and executives
We are proud to be the preferred partner for Cinespace Chicago Film Studios and have provided this service to various companies across Chicagoland.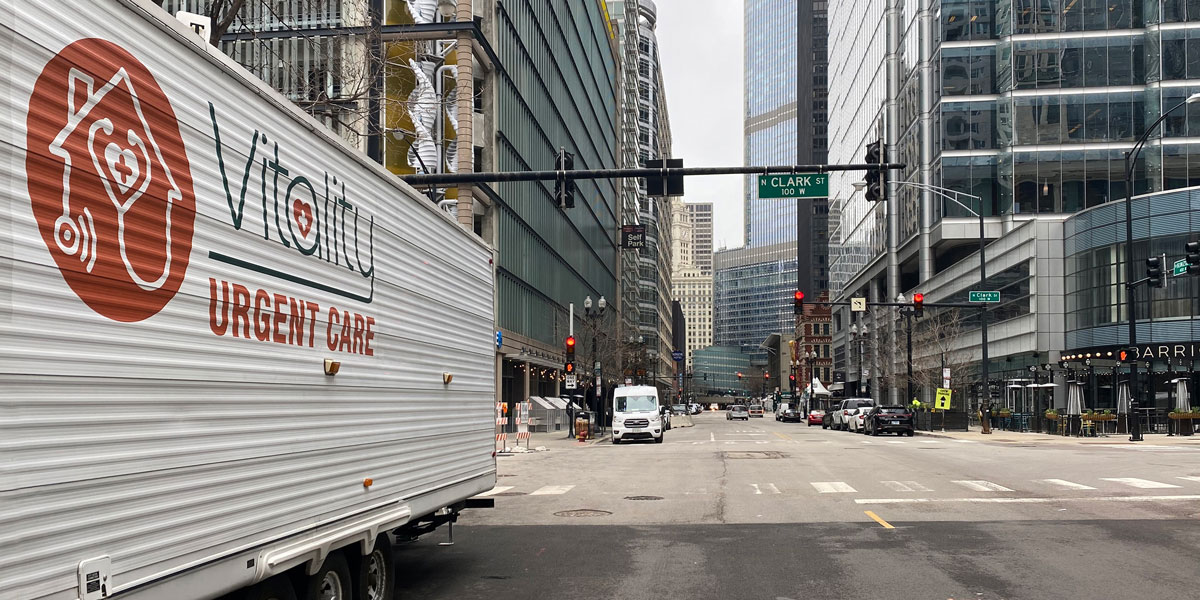 Vitality Urgent Care is a leader in testing services to film industry productions across the Chicagoland area.
Businesses We Service
Field Industry (Preferred Partner Cinespace Chicago Film Studios)
Colleges, Universities, Education institutions, Schools K-12
Agriculture
Banking
Construction
Government
Restaurants and Cafes
Retail Stores
Grocery Stores
Hotels
Gyms and Health Clubs
Manufacturing Companies
Entertainment & Media
Television Production
Transportation
Couriers and Delivery
Healthcare Offices
Home Service Workers
Schools and Daycare
Travel
Delivery & Logistics
Real Estate
IT Companies
---
FAQ (Corporate COVID-19 Testing)
What Kind of Testing Do You Use?
RT-PCR (Real-Time PCR) COVID-19 (can be performed with either a nasal, saliva or oral swab)  Results < 8 hours.
RT-PCR (Real-Time PCR) COVID-19 Xpert® Xpress SARS-CoV-2 is a rapid real-time RT-PCR test developed by Cepheid. Results < 2 hours.
ID NOW ( Abbott)  molecular COVID isothermal amplification testing. Results < 15 min
QuickVue SARS Antigen Test. Results < 15 min
What is the turnaround time for RT-PCR testing?
Our median turnaround times for RT-PCR Educational testing have been approximately 8 hours post collection event.
How soon can our organization be tested?
Event implementation within 24 hours or less. Call us directly today at 847.322.3529,
Do you work with multi-office companies?
Yes! We provide testing to corporations, films studios, school and colleges with multiple location in Illinois
How the testing results are provided?
We offer our clients different options of results delivery. Vitality also adapted comprehensive and fully customizable cloud-based laboratory management solution with a user-friendly employer portal. The system is transforming the testing industry with greater accessibility and functionality. We report real-time results directly to patients via text/email. Employer designated health & safety representative is provided with access to results via the secure portal. Employers can generate patient reports and simplify billing practices.
Does it hurt to get tested?
The testing is provided by trained healthcare provider via non-invasive anterior nasal swab. Our testing techniques are completely different from the nasopharyngeal swab, which were administered in the beginning of pandemic.
Saliva testing is also optional and non invasive method for accurate identification of COVID virus.
---
Ready to book or have questions?
Talk to us about your corporate COVID testing needs or book on-site testing if you are ready.
---
---
---