---
CORPORATE ONSITE COVID-19 TESTING SOLUTIONS
Employee Testing for Companies and Organizations
We specialize in safe and efficient on-site COVID testing for companies in and around Chicago to keep employees safe and minimize disruptions to work schedules. This testing can be done on a recurring, one-time, or on-demand basis depending on your needs. We provide the results directly to organizations or/and employees via email, text, or phone call.
Production and On-Site COVID-19 Testing – Vitality Advantage
Vitality is a preferred Local Partner for COVID-19 Testing for multiple Chicago based productions and corporations
We specialize in organizing safe on-location COVID-19 testing for film productions in and around Chicago.
Vitality utilizes robust technologies that allows for high-volume noninvasive testing.
Screening and testing is conducted by trained individuals familiar with CDC and OSHA protocols.
Vitality offers discrete VIP testing in various settings (home/hotel).
Rapid in-house testing for both PCR and Molecular Testing.
Vitality partners with multiple local extensively vetted laboratories.
RT-PCR testing with results under 8 hours.
Which tests does Vitality Urgent Care Offer and Why?
RT-PCR technology
RT-PCR (Real-Time PCR) COVID-19 (can be performed with either a nasal or oral swab) that has been authorized by the FDA and developed by Thermo Fisher Scientific. This test has been authorized for the qualitative detection of nucleic acid from the SARS-CoV-2 virus. Results < 8 hours.
RT-PCR (Real-Time PCR) COVID-19 test has been authorized by the FDA. Xpert® Xpress SARS-CoV-2 is a rapid real-time RT-PCR test developed by Cepheid. Results < 2 hours.
Molecular – Isothermal amplification
ID NOW ( Abbott)  molecular COVID isothermal amplification testing with 15 min results time.
We are proud to be the preferred partner for Cinespace Chicago Film Studios and have provided this service to various companies across Chicagoland.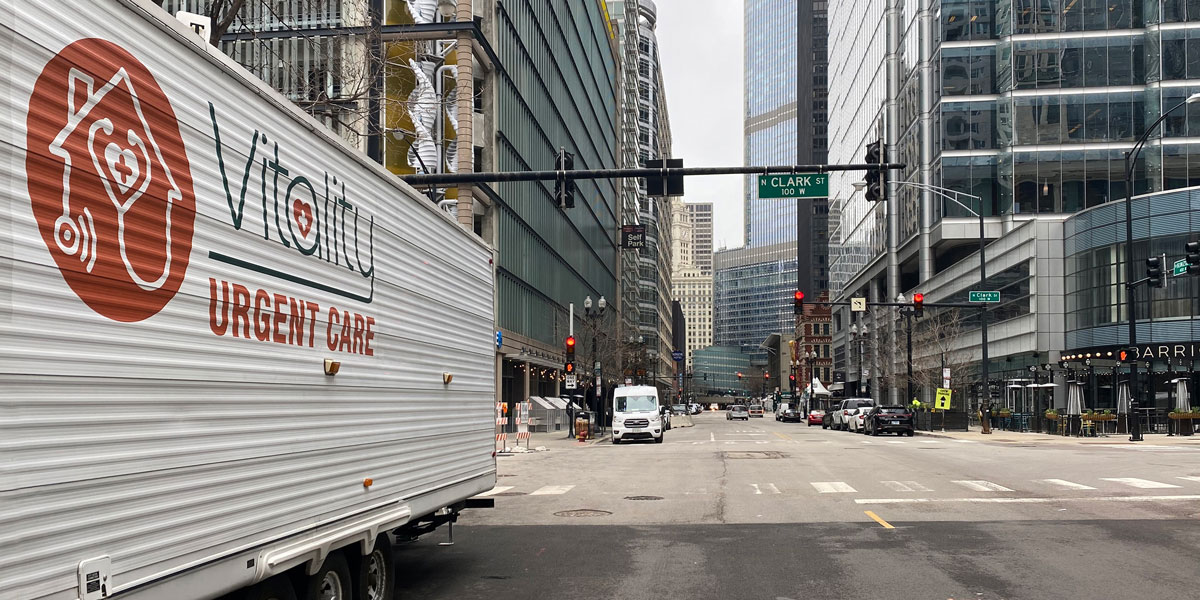 Vitality Urgent Care is a leader in testing services to film industry productions across the Chicagoland area.
Businesses We Service
Field Industry (Preferred Partner Cinespace Chicago Film Studios)
Aerospace & Defense

Agriculture

Banking
Construction
Government
Restaurants and Cafes
Retail Stores
Grocery Stores
Hotels
Gyms and Health Clubs
Manufacturing Companies
Entertainment & Media
Television Production
Transportation
Couriers and Delivery
Healthcare Offices
Home Service Workers
Schools and Daycare
Travel
Delivery & Logistics
Real Estate
IT Companies
Frequently Asked Questions
How Much Does this Service Cost?
We can work with you to customize a pricing plan to best suit your needs based on the type of test requested, how many tests are needed, and the turnaround time that best suits you.
What Kind of Testing Do You Use?
We utilize the RT-PCR gold standard technology, Rapid molecular, antigen and antibody testing to fit each client's individual needs
What is the turnaround time for RT-PCR testing?
Our median turnaround times for RT-PCR corporate testing have been approximately hours 8 hours turnaround time.
How soon can I get my company tested?
Call us today at 224.601.5001 or request a callback to get your company tested as early as tomorrow!
Do you work with multi-office companies?
Yes! We provide testing to companies with multiple offices in Chicago and Suburbs.
How the testing results are provided?
We offer our clients many different options for receiving their results depending on their needs. We can either release the results of all members of the company to the employer who requested the testing, or we can send individual results to each employee. We can call you with the result, send a text, or email a copy of the report to you as well.
Ready to book or have questions?
Talk to us about your corporate COVID testing needs or book on-site testing if you are ready.
---